Happy turkey time! It's the tastiest season of the year where we all come together over mash potatoes, green bean casserole, and lots of pie. While Thanksgiving is all about gratitude and food, there is a certain art form to creating the perfect table sure to wow any house guest or overbearing relative. We'll deep dive into today's top finds for Thanksgiving table settings and, of course, some great DIY options as well for centerpieces.
When putting together the ultimate Thanksgiving day setup, many opt for the classic approach. Harvest-based colors, like oranges and reds, turkey figurines, leaves, etc. . . . This type of arrangement is timeless. Let's start with the base and work our way up: the tablecloth. If you're going for a fall color scheme, this Pumpkin Embroidered Tablecloth is a gorgeous option. For a more simple approach, try this Fall Plaid Tablecloth. Some prefer one solid color for the cloth, this Rust Colored Tablecloth with Leaves is a snazzy choice.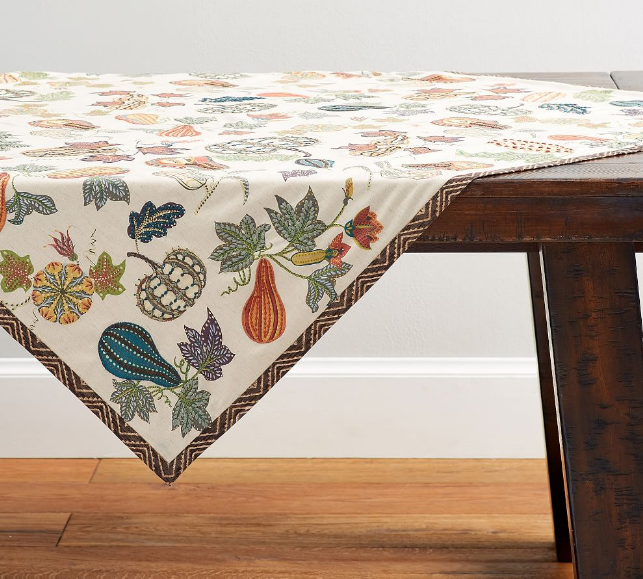 The next step to creating the perfect table is choosing the plate ware. Again, there are several incredible options out there. We've hand-selected a few at different price points to best serve anyone's budget who's hoping to get the perfect setting. Serve your bird on a bird with these stunning Botanical Harvest Turkey Plates. Subtle accents are the name of the game with these Partridge and Pear Tree Plates, my personal favorite. Keep your table in the fall theme with these Harvest Pumpkin Plates. For a minimalist option with an accent color on the bottom, try Main Plates from Our Place.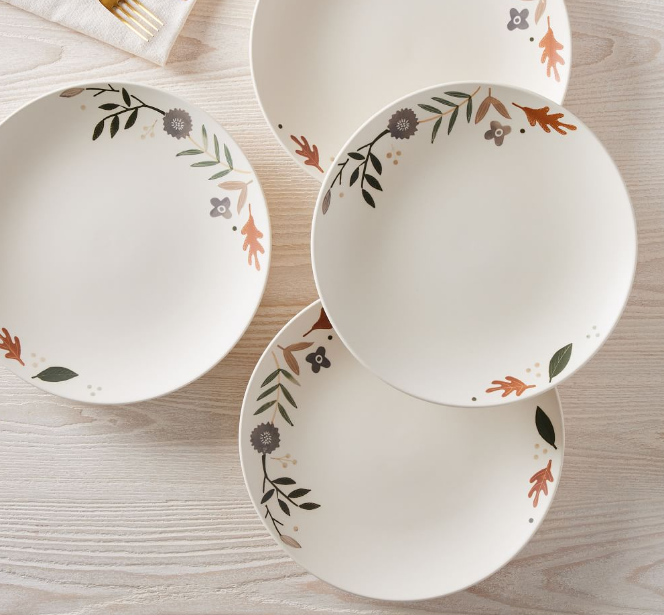 The fun part of the process is always the décor. Some commonly used decorations include candles, figurines, flowers, garlands, and the big centerpiece to tie it all together. A few options we love this year for Thanksgiving décor include Turkey Tea Light Candle Holders, Fall Colored Taper Candles, The Rae Floral Arrangement, and "Thankful For" Place Cards.

Now onto what brings your whole table to fruition: the centerpiece! Most pieces will consist of florals, candles, leaves, pumpkins, and maybe even a turkey. Needless to say, there's something out there for everyone. For a smaller table, check out this classic-looking Harvest Floral Candle Holder Set. For a more modern approach, we have the Gold and Gourds Centerpiece. This would pair quite nicely with the Main Plates linked above. This floral Thanksgiving Centerpiece is sure to leave your guests in awe.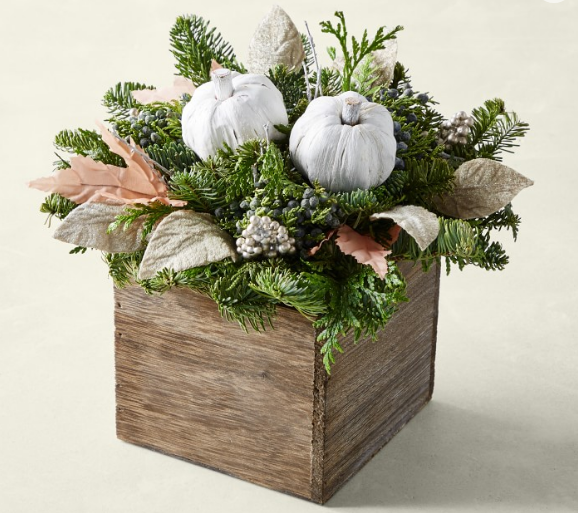 Anyone new to our blog should know we're big fans of DIY projects. Instead of buying a centerpiece, if you have the time, make one yourself. There's a project for any holiday aesthetic that's sure to give your table that personalized flare. Why not keep things simple and edible with a Produce Based Centerpiece. All you'll need is some pumpkins, gourds, any additional garnishes of choice, and your keen eye for placement. Use tied-up corn and some metallic spray paint to create the Maize Vase Centerpiece. Wrap your vase in the corn and tie it off with ribbon or twine. Then fill the vase with fresh flowers or berries of your choice. Opt for something different and minimalist with a Wheat Stock Centerpiece. All you'll need is bundles of dried wheat, ribbon or twine, and vases or glass cloches. Whichever piece you choose, the attention to detail will not go unnoticed, and these displays can easily be re-used come Christmas time by adding some berries or mistletoe.
If you use any of these ideas for your amazing table set-up, be sure to send a photo to Hannah@polliproperties.com to be featured on our social media page! From all of us at Polli Properties, we hope you have a happy and filling Thanksgiving.