We've all spent a little too much time in the past year staring at the areas of our homes we'd like to fix up. Whether it's the walls, entertainment center, lighting, or floors; most of us have a vision but don't think we don't have the funds to pull it off. There's a simple solution that has been around for ages, but is gaining more and more popularity on social media: Do It Yourself Home Projects. Now more than ever many are turning to DIY projects for their affordability, creativity, eco-advantages, and the satisfaction that comes from doing something yourself. Today we'll look at some ideas for interior and exterior DIY projects for all skill levels and look at the benefits to well-being these projects can have.
Customizing Your Walls
We have to look at them every day. Depending on your aesthetic, how you choose to decorate your walls can vary. Some cover them in photos and artwork. Others pick a tasteful color and leave them blank and peaceful. One of the most popular options for sprucing up your place is wallpaper. The trouble is, it can be difficult to find an option that suits your taste and room aesthetic. Wallpaper can also be expensive depending on what you choose and you have to worry about installation. What we suggest is airing out your creativity and painting your own custom wall design. Most wall-related paint projects require paint, primer, rollers or brushes, a pencil, painter's tape, and a ruler. Depending on what you're going for, designing your walls can take anywhere from two hours to a few days. Some create a mosaic, while others opt for a stylistic line design. Whatever your taste maybe, this can fit any budget or artistic skill level. Transforming your walls can elevate any room and make the place feel much more personalized. For extensive information on creating the perfect wall pattern, check out this article.
Improving Your Lighting
Another project to try is assembling some light fixtures to spruce up your dining area. Don't want to buy any light fixtures? Repurpose your mason jars into an indoor or outdoor light fixture. Using mason jars creates the perfect rustic look while reusing glassware you'd otherwise recycle. For step by step guidance to assembly mason jar lights, check out The Summery Umbrella Page.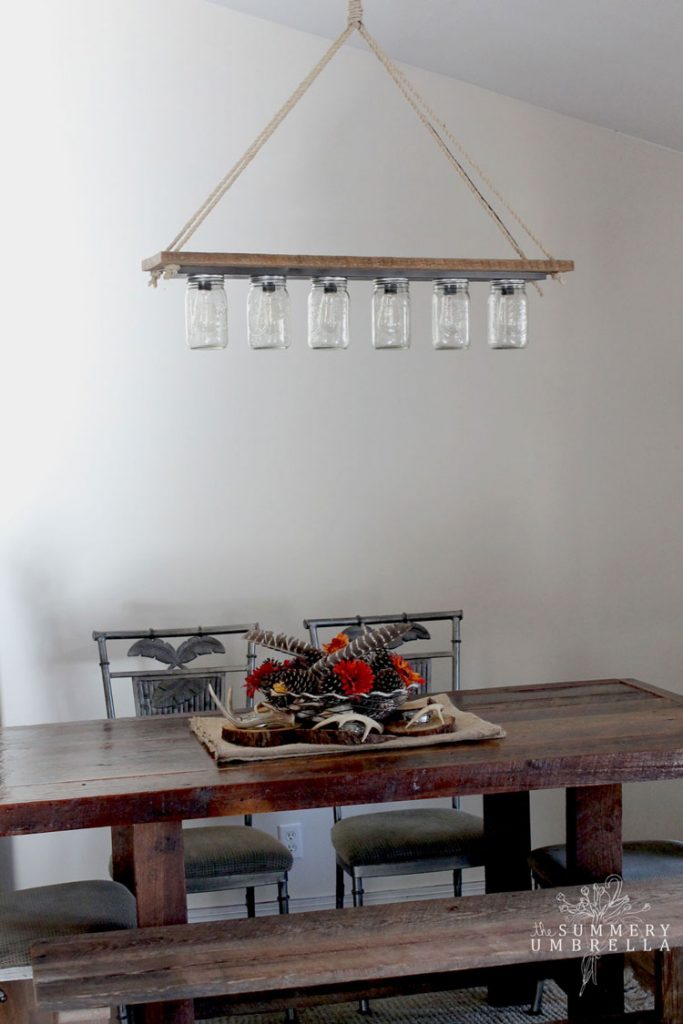 Don't Buy That Shelf, Build One Yourself
Shelves can be as utilitarian or artistic as you want and offer one of the simplest storage solutions for your home. Floating shelves, with the brackets hidden within the shelf itself, as the name gives away, have the appearance of floating on your wall. This type of shelving is versatile and complements a variety of interior styles from traditional to modern farmhouse.
You don't need to run to the store to buy a shelf or wood, try to upcycle from what you already have. An old door can be perfect for creating your own floating shelves. Aside from the door, the only materials you need to complete this project are studs, screws, and wood glue. Some tools will also be essential, like a saw, chisel, drill, and socket wrench. If you don't have these tools, this is the perfect time to meet your neighbors (or reintroduce yourself!) and ask to borrow some. Follow the step by step instructions for creating flawless looking floating shelves here.
Projects for Building Curb Appeal
The outside of your home needs some loving too! Curb appeal projects can transform your exterior and make folks stop and take a second look. Let's start with the front door. Sprucing it up with a fresh coat of paint can do wonders. Try to choose a color that contrasts with your siding, this will make the door pop and can create a focal point if your house lacks one. While we're at it, add some new house numbers to freshen up the overall look. You can even upcycle metal or other materials in your possession to give them a unique flare. It's a small project that allows you to easily demonstrate your personal style.
If you're looking for an easier project to spruce up the outside of your home, add a hanging plant to your mailbox. It's a small touch that can go a long way. By purchasing some rope you can create your own braided macrame hanging basket holder. These can be as simple or as intricate as your skill level and time allows.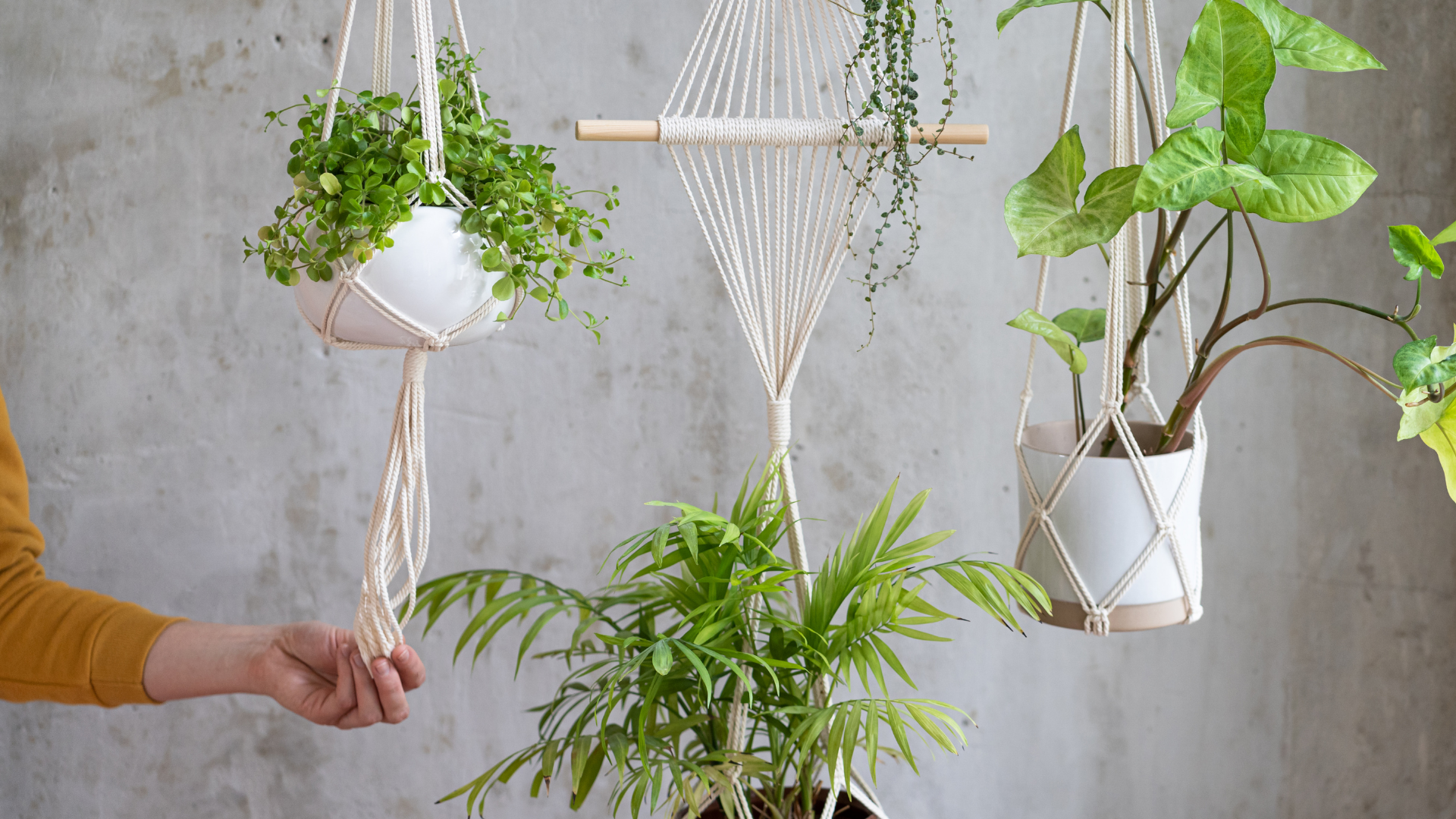 Building a Better You
Now that we've discussed some fun and popular projects, it's important to note how these can benefit you aside from the aesthetic. Starting a DIY project is an instrumental creative outlet. On top of this, you can learn a new skill that may benefit your home decor for years to come. Working on DIY projects is a great way to relieve stress and unleash creativity. "Starting a DIY project is a great way to distract yourself and drown out the noise around you, like stressful news or things simply out of your control. It allows you to focus, plan, work with your hands and enjoy the empowering feeling of creating something on your own. All of which can be beneficial to your overall well-being." (5 Reasons to Tackle That Project) There are endless benefits to starting your project. Choose to DIY and help the world, your wallet, and yourself.
If you tackle a project we've suggested or one completely separate, send us the finished project and we'll share it on our social media. Check out this article with 50 Easy DIY Projects.