We are now in mid-April with sunny skies and Swiffers in our hands. That's right, it's spring cleaning season. Whether your to-dos are a page or notebook long, we all have household projects on our agenda now that the weather is warming up. Don't have your own to-do list? Find out which tasks can make the biggest difference both inside and outside your home (and are relatively easy to tackle).
How Spring Cleaning Came to Be
Spring seems to bring out the cleaner in all of us. Have you ever wondered why you get this feeling when April rolls around? Why has the term "Spring Cleaning" become such a common phrase in any household? It dates back centuries, across nations, and some suspect it could even be connected to our biology.
I can speak from personal experience when I say cleaning is not my favorite task in the winter. Cold and dreary days leave me feeling lazy. This has to do with melatonin being released in our brains when there are fewer hours of daylight. The melatonin release causes our bodies to become sleepy; we're too busy in our hibernation state to worry about window smudges. When the days get longer and warmer, our bodies are energized by the sunlight, and we suddenly notice all the dust and clutter that had previously been pushed to the side. It becomes almost a frenzied feeling of wanting the home in order before the weather is so gorgeous you'll want to be outside every second.
If we travel back to the 1800s, we can glean some historical insight into Spring Cleaning. During the long, cold winter months, people were inclined to keep their lamps burning for much longer periods. "Because homes used to be lit with whale oil or kerosene and heated with wood or coal, the winter months left a layer of soot and grime in every room. With the arrival of spring, women would throw open windows and doors, and take rugs and bedding outside and beat dust out of them and start scrubbing floors and windows until sparkling." (Check out this fascinating article from the Washington Post for further history.)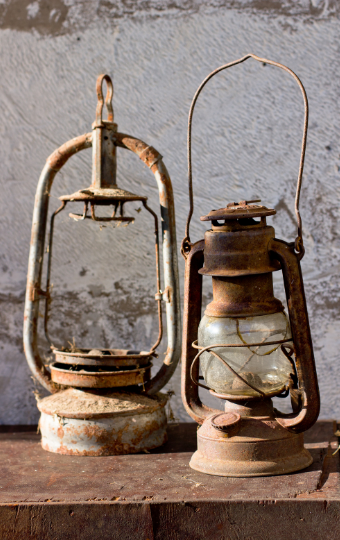 Luckily, our Spring Cleaning does not involve scrubbing soot from every inch of our homes. There are both indoor and outdoor projects ranging in time and energy for everyone looking for a starting place this year.
Indoor Projects
Time to get the musty winter air out of your home and let the sunshine in! The first and easiest task on your list should be to open all windows on a nice day and air out your home. There's nothing quite like the smell of fresh Spring air.
The next task on your radar should be disinfecting, something we've all gotten more accustomed to in the past year. Start with all of your "high touch" areas, like doorknobs, light switches, remotes controls, and cabinet pulls. The bathroom is a go-to disinfecting area. When cleaning rims and fixtures, you can go with an all-purpose bathroom cleaner or disinfectant spray. On all bathroom surfaces, especially the toilet, remember to brush and scrub upwards to help prevent rings of dirt or grime.
Open up those pantries and start checking expiration dates! Throw out all expired items from your pantry and reorganize. Try to place your items that have expirations coming up in the most obvious spot, or mark them brightly so you are aware and don't let items go to waste. While you're at it, organize those medicine cabinets, get rid of any expired medications or products you no longer use.
This task may require a friend: flip your mattress. This should be done every three months and will leave you feeling fresher at bedtime. This is also a good time to wash all of your bedding and store the winter blankets away. If you change sheets with the seasons, get a bright color on your bed — my go-to for this time of year is a light blue.
Outdoor Projects
If you haven't done so already, this is your sign: take the Christmas lights down (or other holiday lights). January through March, we were understanding, but by April, Summer is just around the corner and the lights aren't working for you anymore. Time to put all your winter decorations away for the year and get the outside of your home looking radiant.
Now we are on to everyone's favorite outdoor activity, cleaning out your gutters! You'll want to make sure you have a sturdy, extendable ladder before beginning this task. When clearing out debris in our gutters, it's easiest to use a small scoop, many opt to even use a child's sandbox shovel. This will help you get everything out without damaging the gutters. Put a tarp under you to collect the falling leaves, this will help with clean up afterward.
This is also a prime time of year to inspect your home for any wood rot. While it may seem like an extensive problem if you find any, there are some simple solutions that you can do yourself, depending on the severity. If there is a large amount of wood rot, you may consider calling in a professional. For minimal cases, you'll first want to clear the rotted wood with a chisel. After it's removed apply a wood hardener to the area. Put in a filler, then sand it down. Next, you'll do a little primer then paint, and voila! The area is good as new.
Whether it's the temperature, biology, or history, the time has come to whip out our gloves and get to cleaning. Reduce your stress going into Summer by getting your place in order before the heat hits.
Send us your Spring cleaning projects, and give us a shout if any of these tips helped you out in the quest for an immaculate home! To get some more insight and view inspiration for this post, check out realtor and team owner, Elise Polli's short video on Spring Cleaning.