2022 was an exciting year for Polli Properties, and we couldn't have done it without the continued support from our amazing past clients and friends both near and far! Before we head into 2023, it seemed fitting to provide a recap of what we have been up to this past year. We are grateful to be able to reflect on our 2022 successes, growth, and favorite moments with you!
In April, we started the year off by announcing that we were going independent! This move was monumental for our team, as it meant we could have full control over our business operations, allowing us to better serve our most important people — our clients. That same month, we officially settled into our new office located in the heart of Williston and celebrated with nearly 100 of our incredible supporters at our grand opening party. Welcoming past and present clients, friends, and community members into our new space has meant the world to us. We have hosted events, such as a Hands-Only CPR class with the American Red Cross, a first-time home buyer's seminar with our very own Siobhan Philbin, and a Gingerbread House Making Party. Thanks to the many donations received from our generous clients, we also had the opportunity to partner with our new neighbor, The Williston Food Shelf, during our August Food Drive to celebrate 5 years of Polli Properties.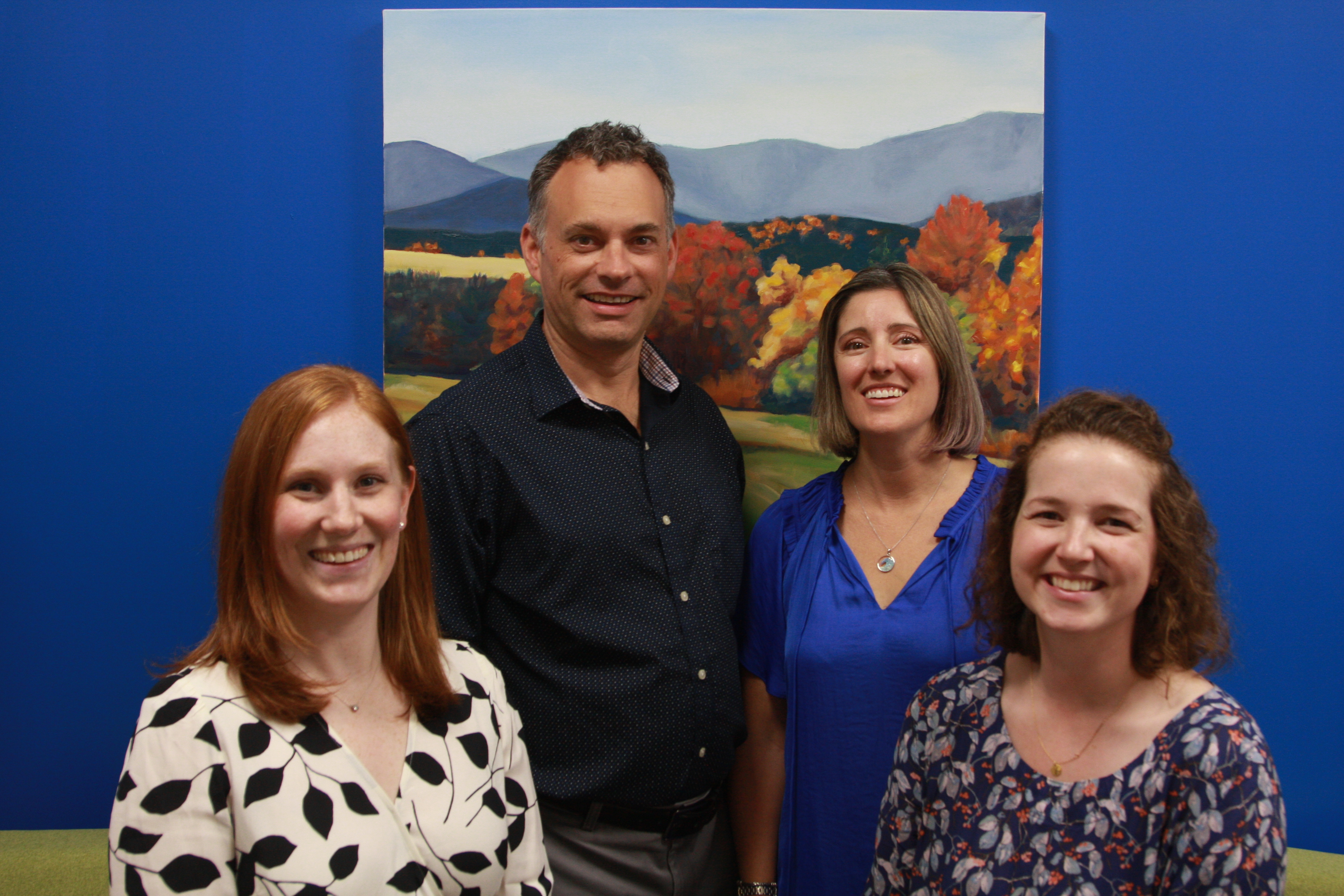 Outside of Williston, our team had the pleasure of co-sponsoring a Build Day with Sleep in Heavenly Peace, a non-profit committed to providing bunk beds for children in need throughout Vermont. Again, supporters of Polli Properties, including past clients, friends, and colleagues, were generous enough to donate their time and funds that allowed this event to be possible. Together, we raised over $4,000 and built 21 beds!
Here is what Elise, broker and listing agent at Polli Properties, had to say about these community events: "I continue to be awe-struck by our clients and their warmth and care. I may be biased, but am certain that we have some of the best clients in the state. We consider ourselves lucky to be surrounded by such community-minded clients." As our team looks forward to 2023, we are excited to continue offering events and giving back to both the Williston community that we feel fortunate to have become a part of and the greater Vermont community.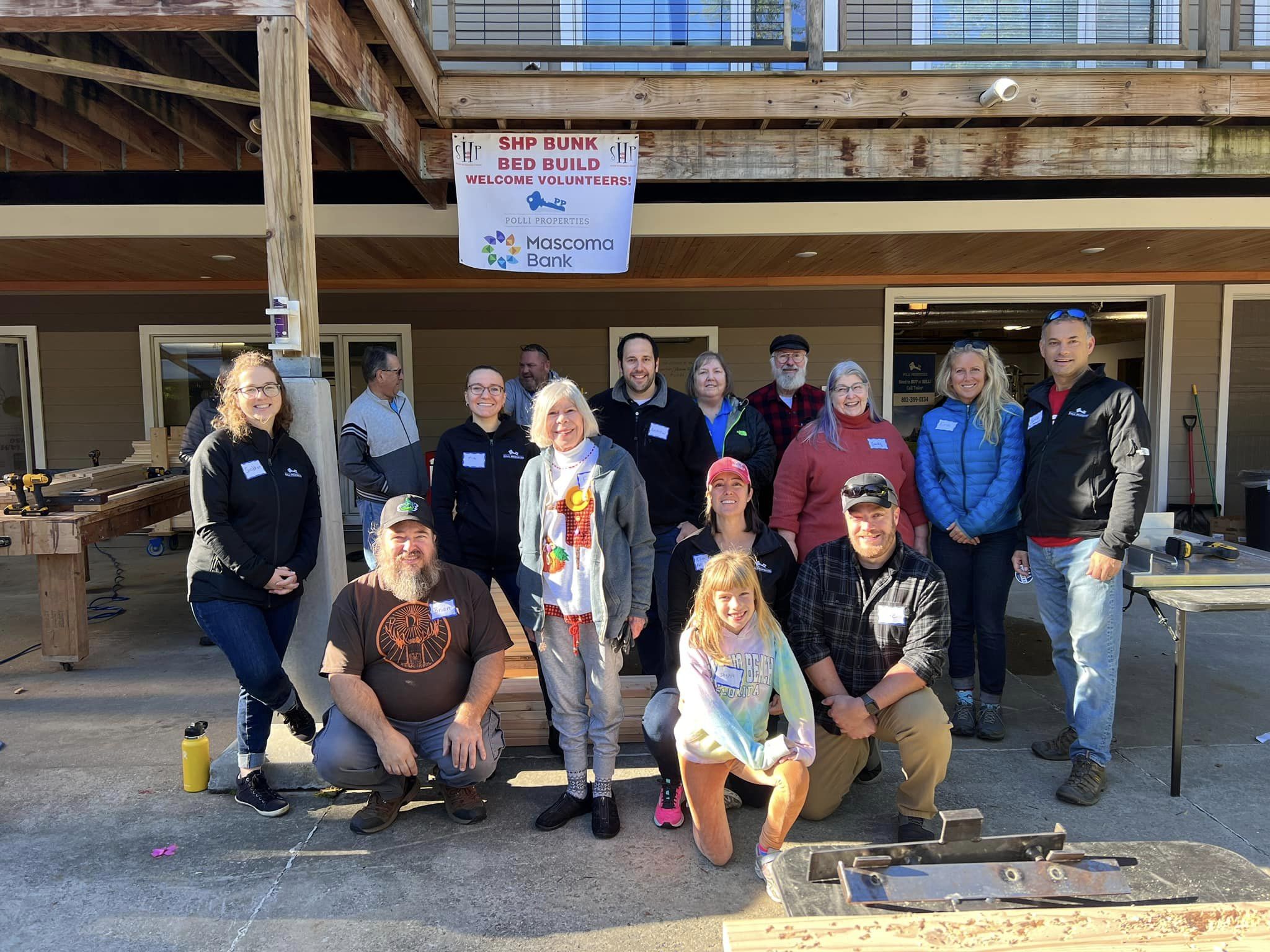 Speaking of feeling fortunate, this year we had a record year with over 60 referrals from incredible past clients, friends, and supporters. From the start, Polli Properties' mission has always been to provide the very best client experience possible. As a team, we work hard every day to achieve this goal by managing the deadlines and stressors of each transaction with ease, while also consistently improving our systems, in order to bring peace of mind to our clients. Knowing that we have helped so many individuals buy or sell their homes in 2022 as a result of a past client or supporter's positive experience means a lot to us, which is why each year we host an exclusive VIP event to thank our referrers. This year, our VIP event will be held at Bove's.
In that spirit, our team loves to show our appreciation to everyone that supports us whenever we can. This year, we held our 3rd annual Fall Client Appreciation Event at Whitcomb's Land of Pumpkins. On a beautiful Vermont fall day, we had an enjoyable time providing over 100 attendees with vouchers for pumpkin picking, escaping the corn maze, and taking a family portrait with a professional photographer. Our team thoroughly enjoyed seeing familiar faces and reconnecting with past clients. We can't wait to hold this event again in the New Year!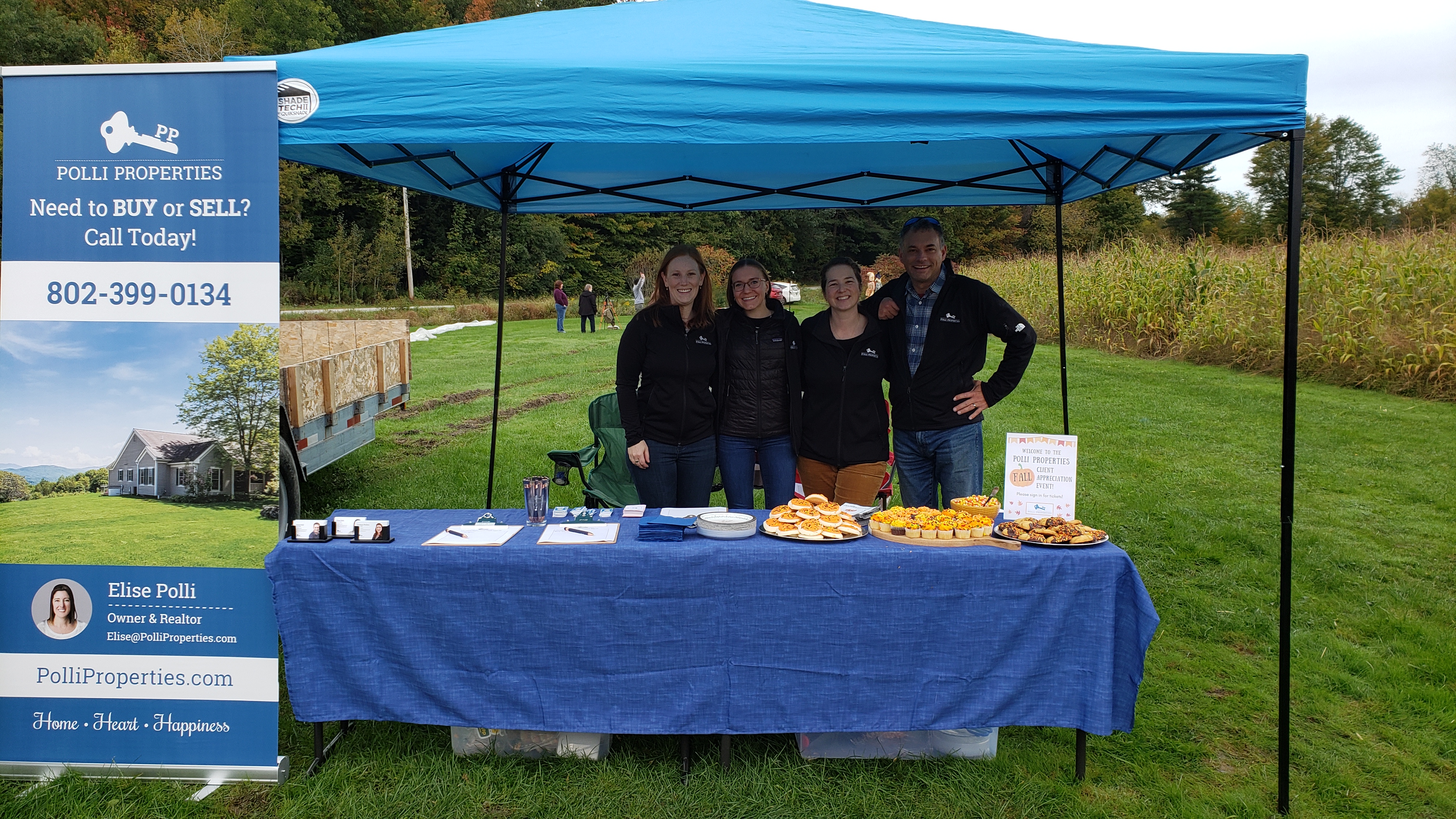 Even with our transition to an independent brokerage, our team beat our 2021 stats with 74 total closed properties throughout 2022. It was still largely a seller's market and homes continued to go quickly. The big winner this year for shortest days on market went to our 192 Depot Road listing in Colchester with only 2 days on market! The combination of the market conditions and our team's expertise resulted in 94% of our listings being sold at or above asking price. As Elise noted, "It was the year of multiple offers on our listings! So much so that we created a spreadsheet to summarize the many offers received, allowing our clients to easily comprehend the nuances of each offer as well as their pros and cons. Although one might think that reviewing a dozen offers sounds like great fun, the actual process can be overwhelming and tedious for clients. The creation of this tool is just one way that we work to make the process as streamlined as possible for our clients."
When it came to our buy-side transactions, the expert negotiating skills of our buyer's agents resulted in 36% of Polli Properties buyers purchasing their new home under the asking price. Pretty impressive for such a tough market! Getting these huge wins for both our buyers and sellers is what makes our job in real estate so rewarding. Buyer's agent Jamie said, "It was challenging and fun to help my clients write smart and strategic offers at a time when demand was high and offers were plentiful. I enjoyed educating my clients during the process as the market changed. I often tell my clients to buy a home because they love it, not because it's for sale, which is sometimes forgotten in a low inventory market."
When reflecting on the wonderful clients our team had the pleasure of working with this year, Elise said, "2022 seller clients included many who were downsizing and/or moving into senior housing. I truly empathize with these friends and clients who are often heartbroken to say goodbye to their homes and many of their belongings in order to make a move that will benefit them in the next chapter of their lives. With this, I have witnessed great humanity as a carpenter might be saying goodbye to all of his building tools or a caterer may be parting ways with all of her baking supplies. Our team does our best to support our clients both physically and emotionally." Whether buying or selling, our team truly is committed. Buyer's agent, Siobhan, also noted that her top moment was, "finding homes for multiple clients who thought the option to buy a home in 2022 was impossible."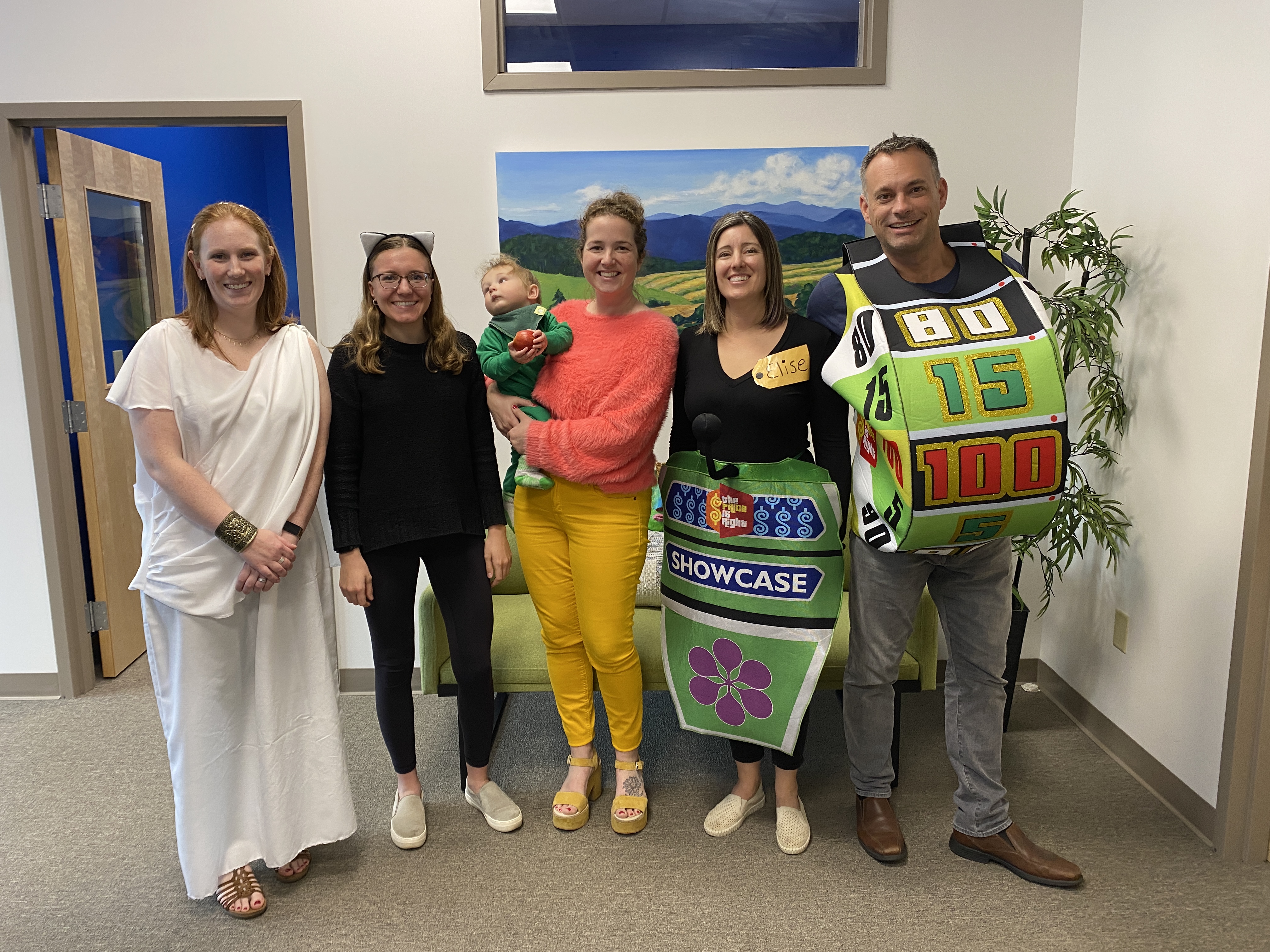 In addition to all the successes we have had this year, our team has grown, too! In May, we welcomed back our buyer's agent Siobhan Philbin after her maternity leave, and in November, listing and buyer's agent Nina Mazuzan joined Polli Properties. We feel very fortunate to have these two spectacular agents on our team, both of whom bring a high level of care and knowledge. Mia also joined our group in July as our newest Client Care Coordinator.

Now a strong team of six, Polli Properties is excited for all that 2023 has to offer!
- The Polli Properties Team: Elise, Jamie, Siobhan, Nina, Hannah, and Mia